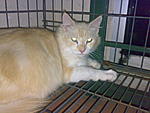 Tan-Tan
courtesy of K'lyn_Cat ;)
taken to our home on February 28th, 2010.
very gud-behave cat..
xske kena peluk or dokong but will come n baring kt tepi or kaki whenever he wants..hehe
ske perhati n follow ape tiger wt..
n like k'lyn said once, dia kuat mkn n kuat poo2..
3
03-04-2010

12:08 PM
Tiger "Tornado" Oren
courtesy of K'Nurul..hehe..
taken to our home on February 2nd, 2010..
sgt terpikat dgn gud manners dia mse ktorg tgh pilih2 kt umh k'nurul.. baeeeeeek sgt...sore pun ala2 xkuar..
tp k'nurul dh warning "jgn tertipu~"..
owh yeah....lps a week or so, dia dh menampakkan ke'tornado'an dia..
pg, klu carpet kt ruang tamu n bilik xternaik/tergulung, xsah..
main lari2 sorg2 pun jadik..
dulu mse mula2 amik perut sgt boroi n berat..
skrg still berat tp skit slim n tough sbb byk exercise kot kt umh ktorg..hehe..
tp tornado dia pun, dia sgt ske mntk gosok..specially bwh perut.. =)
1
03-04-2010

11:40 AM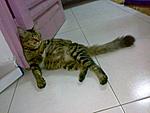 our 1st prince Ngau-Ngau [lost]
picked while a stray at my flat's stairway..
lying so tired n hungry...
dat time i was still bujang n renting da flat alone, so he at last became a gud company for me..
even tho stray once, he learns quickly n no need for me to teach him to use litter..
after almost a year with us (now im married..), he became such a handsome male..very kind n obedient.
unfortunately, on February 1st, 2010, we lost him.. tried to seach, put up posters n all, but fail to find him back.. most of da neighbour knew him n how he used to chase us when we back from work..
sum even say, sumbody took him..
fine, u can have him, but make sure u take care of him as i used to, or even better. n if u cant afford it, better hand him back to me. coz he's not just a pet, he's a FAMILY.
4
10-16-2009

03:03 PM