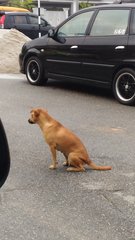 Free Adoption. In need for forever home.to be love and care.friendly,Loyal, Clean and healthy.
Recommended to neuter/spay.
Now, in quite danger environment. playing near n on busy main road.Her safety is quite worries. Staying in malay community, her stay not so welcome.pity her.pls do take her home so that she will be safe and comfort.