Horrified, the details: Kid thinks puppy is dirty. Kid takes puppy into the bathroom to give him a bath.
Kid drops puppy in toilet. Kid flushes puppy. And somehow, kid AND puppy live to tell the tale.
The incident happened in England, where a four-year-old decided to give his week-old puppy (ohmigod, so cute) a bath because, as he told a news crew (with a little prompting by mom) "it was dirty." His mom "heard the chain," and four-year-old Daniel told her the pup had been flushed down the drain.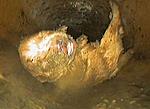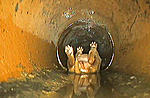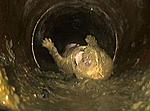 Running outside, she could hear the puppy in the pipes, so she called for help. One four-hour ordeal and somewhere across the backyard under the neighbor's house later, the pup was rescued. He's OK and earned a name for his troubles - Dyno, in honor of "Dyno-Rod," the plumbing crew who came with special cameras to suss out where the little cocker spaniel was stuck and pull him out.
Daniel has apologised, blaming his twin brother for getting the dog dirty and saying: "I had to give him a wash. I'm so, so sorry. I won't do it again."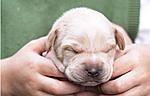 .