PAAPP;s Secretary Donna Chee volunteers on a regular basis at Penang SPCA. This is what she has to say:
I've attached some photos of last Saturday's (15 August 2009) event with SPCA at New World Park. Look at these wonderful & obedient dogs that were there to demonstrate their abilities and intelligence, although only being non-pedigree dogs. I wish I had more photos demonstrating their talents but these were all that was managed to be captured.
Please let your friends know about adopting dogs from SPCA instead of buying from petshops. These dogs deserve a home too and have as much to offer as any pedigree dog! Help save a life and give these wonderful animals a 2nd chance at life....these are only a fraction of the dogs available at SPCA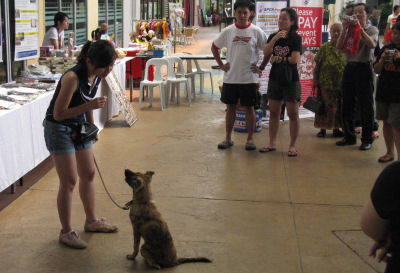 Dogs which are adopted from SPCA get a 50% discount for training with the PAAPP, the association I am attached with, that promotes the sport of agility for dogs. We offer obedience training as well, of which I am currently training these dogs at the shelter on the basics and they are showing very good progress.
Please pass this around. Thank you all.
__________________
Please review Petfinder Forum Rules , or if you are new, or have not yet read them, please get familiar with them. Thanks.
Petfinder Forum rules
Sometimes,things in life are out of our control. We just need to accept the fact.
Rocky, Ricky and Rusty is my best friend.