Dear Members,
We are ecstatic to announce our newest partnership - with
SinChew-i
(SinChew's online division) and
Pets (寵物情緣)
, a pet magazine by Life Publishers, a sister company of SinChew.
During the first phase of this partnership, the magazine's website
http://www.MyPets.com.my/
would feature PetFinder.my's latest pets for adoption via the campaign "Adopt A Pet, Save A Life", so that their readers would be better exposed to these homeless pets.
Pets Magazine is Malaysia's leading Chinese pet magazine, with 6 years of publication and a readership of over 100,000. The magazine and website features interesting articles on topics such as managing pets, health, disease, diet, latest activities and pet gallery, focusing specifically on dogs and fishes.
To view PetFinder.my in action there, just go to MyPets.com.my and click on PetFinder at the Quick Links section, or the PetFinder.my link at top navigation bar in subpages. That would lead you to the dedicated set of pet listings at
http://www.mypets.com.my/petfinder
In the coming months, we will be working closely with them to increase awareness of pet adoptions, and sharing tips with their readers on responsibly taking care of pets.
We would like to sincerely thank the SinChew-i & MyPets team for their hard work and making this possible, especially Hooi Choong, Bee Bee and Raymond.
Official Press Release at SinChew & MyPets:
http://search.sinchew-i.com/node/631134
http://www.mypets.com.my/node/221?tid=3
A rough English translation of the press release:
SinChew and Pets Magazine (a publication of Life Publishers) have partnered with the popular pet website, PetFinder.my, launching a campaign "Adopt A Pet, Save A Life", hoping that this would become one of the nation's largest online partnerships on animal welfare and education.
Pets Magazine is Malaysia's leading Chinese pet magazine, with 6 years of publication and over 100,000 in readership. The magazine has created a website MyPets.com.my with the help of SinChew's online team, which features information on various topics such as pet articles, health tips, Q&A, activities, beauty, and trends, mainly focusing on dogs and fishes.
PetFinder.my is an online pet adoption service established since April 2008, focused on providing animal lovers with a platform to share knowledge and experience, with the primary mission of saving more animals' lives and finding them good homes. Up till September 30, this website has successfully helped rehome 4709 pets, with 1663 animals currently awaiting adoption, including dogs, cats, hamsters, rabbits, fishes and reptiles.
"PetFinder.my is very grateful to MyPets, which is in a unique position to help expand our reach of the Chinese community. The homeless animals would certainly benefit greatly from this partnership," remarked Andy Koh, the founder of PetFinder.my. "We have also recently extended our features, allowing readers to easily use iPhone and other Smartphones to access our latest news."
Screenshot of Campaign at SinChew's main page: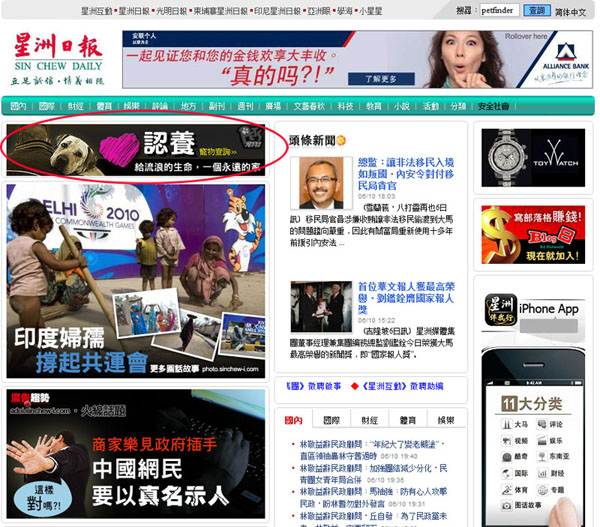 http://www.sinchew.com.my/
Screenshot of PetFinder.my Listings at Pets: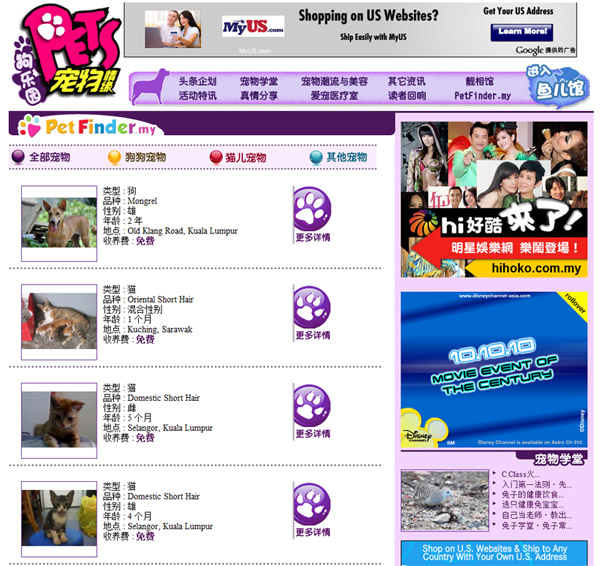 http://www.mypets.com.my/petfinder
Sample cover of the Pets (寵物情緣) Magazine: