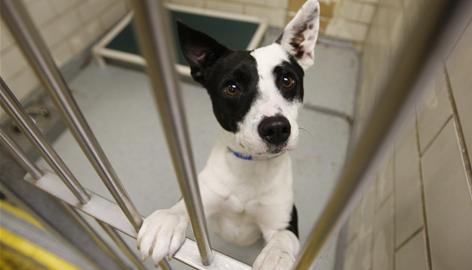 By Sharon L. Peters
hey're pulling out all the stops next week — including giving pets to some adopters at no charge — in a nationwide effort to boost the number of shelter animals that find new homes.
Three hundred shelters across the USA are holding Change a Pet's Life Day on Jan. 24, aimed at focusing attention on shelters and rescue groups and enticing potential adopters. Fees for the first 10 adoptions at each participating shelter will be paid for by Topeka-based Hill's Pet Nutrition, which organized the event.
Adoption fees generally range anywhere from $25 to $300, depending on the shelter, species, pet's age and whether it's purebred.
"Eight million pets a year enter shelters," says Janet Donlin of Hill's. And many experts believe that with the sour economy, intake numbers are increasing while adoptions are holding steady or decreasing. "We are hoping that people who have been thinking about adding a pet to their family will take this opportunity to do so."
The 300 shelters are promoting the event on their websites, on Craigslist and in their local media. On a national level, longtime animal lover Kyra Sedgwick, star of The Closer, is carrying the Change a Pet's Life banner during appearances the next few days. "I hope people will at least consider the possibility of getting a shelter pet," says Sedgwick, whose family has a rescued cat and dog.
In addition to reimbursing shelters for the 3,000 pets the adopters won't have to pay for, Hill's is providing free Science Diet pet food and a training/information DVD to all adopters and launching a toll-free number to answer new-pet-owner questions.
The notion of essentially giving away animals to adopters is a controversial one in shelter circles. There are concerns that people who don't pay for pets put less value on the animals; plus, adoption fees are vital income to cover sterilizations and vaccinations, as well as to tend to sometimes significant health problems.
Also, especially in this economy, there's worry that people who cannot afford to take on more expense will be moved by the notion of saving an animal if it doesn't require any money upfront, and they will not be able to keep the pet long-term or pay for medical care.
"The shelters will be using their normal screening processes" on Jan. 24, Donlin says, to filter out inappropriate adopters, and the emphasis won't be on getting as many animals as possible out the door but on making solid adoption matches. "And we're underwriting the cost of the first 10 adoptions" to ensure the effort does not create a financial hardship on participating shelters.
The hope is that all the attention will not only mobilize people who have been considering getting a pet, but also prompt people who have not been inclined to visit a shelter to do so. "There are great animals in shelters," Donlin says, and "this is part of a broader effort to make sure people know that."
Kim Janzen of the Kansas Humane Society in Wichita says her shelter has held free adoption days regularly in which sponsors pay the fees. Some people who adopt a shelter animal may be less than financially stable, she acknowledges, "but I want those people to get their pet here. … If they get it here, we know it's healthy and spayed or neutered and vaccinated."
The Wichita shelter, which has a 52% euthanasia rate (down from nearly 80% in 2003), usually would adopt out about 40 pets on a winter Saturday, Janzen says. But on Change a Pet's Life Day, she's hoping for at least 80.
James Bias of the SPCA of Texas in Dallas, another participating shelter, which adopts out 9,000 animals a year, says "nine out of 10 people don't find the perfect match the first time they visit us." He expects Jan. 24 to be no different. "Our shelter is full of really sweet, healthy, well-behaved animals," and he hopes the event will prompt new visitors who eventually, if not next week, will return to find a pet.