I'm a family guy in early 40s, staying in a landed house in Sg Buloh with 2 adorable children and my wife.
Early this year, somehow my affectionate towards cat been unleashed... of which, I guess it's within my bloodline (late discovery). My boys are fond towards those hairy balls too, especially the eldest.
Never been in our thought of having a furry pet, until lately. While visiting a relative some time ago, who adopting dozen of those fantastic gorgeously beautiful creatures, they offered us a pair. But we need to wait for a couple of weeks for them to settle down, logistic matters, etc. Back home, we immediately spent hours and days setting up an appropriate area to welcome the cats. Covered corner, cozy artificial grass carpeting, 3-storeys cage, food and water dispenser, litter box and sand, toys and... yeah, we're basically ready.
However, before we manage to have the cats, it's very unfortunate when we came to know that the pair had a health issue (diarrhea or something), while been under caretaker. Hence, to avoid further disappointment of my kids (actually myself), we googled for any available cats to adopt. Lucky us, within a day we found a friendly person who wanna let go a mama with 5 kittens (around 3 months of age).
And out of sudden, we had 6 beautiful creatures of our own... so called. Pet shop and vet became our regular stops, sent the Mama for spaying and kittens for deworming (still early for a vaccine, said the vet). My daily routine changed, and my wife caught by surprise after 10 years of marriage... hope that's not sign of late puberty, if not middle age crisis.. she said. Very funny.
3 months later, I've come to a situation to accept the fact that, 6 new 'family members' to take care is really a big deal. Hence, we surrendered 3 of the kittens to another family member, whom just lost their pet. In the following months, so happened my youngest son get admitted due to acute bronchitis. He's kinda fragile with tonsillitis, been hospitalized almost once every year (he's currently 5). Although it's not confirmed an allergy to a cat, but the Dr had advised us to avoid anything that could trigger his sensitivity (such as dust, and perhaps cat fur).
At home, we allow our cat (at that time) to freely roam in the house as indoor cats, my personal preference. The cat mother, am not sure the exact breed, I think it's DLH. So her fur 'presence' almost everywhere, regular shedding kot. Her kittens fur kinda short type, probably mixed with DSH. Well, family comes first... based on Dr advice, we let go the 3.... of which apparently the first owner took them back.
Time flies, it has been few months. Kinda depressed as day by day, that cat's corner still there. I keep a leftover of cat's food in my trunk, just in case bumped to anycat in need. In my weekend morning walk, at times feel like a stalker... 'overly' observe other people cats. Last few days was a storm hit when I was just trying to pet several kittens of my neighbor by a roadside, one kid shouts out loud, 'Hey, it's my cat lah!'. Ouch.
Cut the story short, am writing to seek for advice, what is the suitable breed for me to adopt (again), a calm type with short hair (that less shed) and low vocal (the one we had earlier was very the loud). Can't afford to chase up and low, so perhaps non-hyperactive low energy type of cat? Hahaha
British Short Hair, Scottish Fold, American Short Hair, Munchkin seems to have these characteristics, pa'kal je ngko mahal (kinda costly).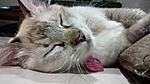 The Mama we had earlier, GBG = gedik bising garang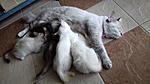 Those days, family of fur