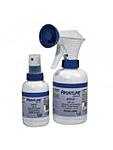 Available in 2 sizes:
100ml - RM35.50
250ml - RM67.50
Postage via Poslaju can be arranged
RM5.70 for weight less than 500 gram
Please call/SMS (019-337 0862 or 019-317 0862 - Khasrina) or email:
dkashbuluh@gmail.com
for online order and other enquiries. You also are most welcome to visit our website at:
http://www.dkashcattery.com/category/product/
or our Facebook: D' Kash Buluh Cattery for other available product and details.
FRONTLINE Spray Treatment for Cats Caution
Keep Out Of Reach Of Children
FRONTLINEŽ Spray treatment for cats and kittens.
FRONTLINEŽ Spray provides effective flea and tick control for adult cats and kittens 8 weeks of age or older.
Fast-acting control. Prevents reinfestation. Kills adult fleas before they lay eggs. Kills fleas which may cause flea allergy dermatitis. Kills fleas and ticks for a minimum of 30 days. Rapidly eliminates infestations with chewing lice. Aids in control of sarcoptic mange infestations in cats.
FRONTLINEŽ Spray is the only flea control product that contains fipronil, a patented GABA inhibitor.
FRONTLINEŽ Spray rapidly controls flea infestation by killing adult fleas.
FRONTLINEŽ Spray residual activity prevents reinfestation by killing fleas and ticks for at least 30 days. Studies have shown FRONTLINEŽ may protect dogs against fleas for up to 90 days.
Directions For Use
It is a violation of Federal law to use this product in a manner inconsistent with its labeling. TO PREVENT HARM TO YOU AND YOUR PETS, READ ENTIRE LABEL AND ATTACHED DIRECTIONS BEFORE EACH USE.
Follow all directions and precautionary statements carefully. Use only on dogs and cats. Do not use on rabbits. Do not use on any other animals.
Aapply to cats or kittens as follows:
How To Unlock The Trigger Pump
Press down on lock button located at the top of the trigger pump. At the same time, rotate the nozzle counterclockwise one full turn so that the tab on the lock button aligns with the notch in the nozzle. To lock the trigger pump, reverse the process. The trigger pump should be left in the locked position when not in use.
Wear household latex gloves. Hold bottle in upright position. Ruffle the animal's coat with one hand while applying spray mist to the animal's back, sides, stomach, legs, shoulders, and neck. For head and eye area, spray FRONTLINEŽ Spray on a gloved hand and rub gently into animal's hair. Do not get this product in your pet's eyes or mouth.
Apply spray mist until animal's hair is damp to thoroughly wet.
Approximately 1 to 2 pumps per pound of the animal's body weight will be required. Pets with long or dense coats will require the higher rate.
As with any flea control product wash hands and exposed skin thoroughly with soap and water after use.
To prevent flea build-up or reinfestation, use FRONTLINEŽ Spray prior to the onset of flea season and monthly thereafter. Ticks do not need to receive spray directly upon their body for complete control. Do not reapply FRONTLINEŽ Spray for 30 days.
Product performance is unaffected by exposure to moderate rainfall or by bathing with most brands of pet shampoo.
Precautionary Statements
Hazards To Humans. Caution. Harmful If Swallowed Or Absorbed Through The Skin. May Cause Severe Eye Irritation. Avoid Breathing Spray. Avoid Contact With Skin, Eyes Or Clothing. Wash Thoroughly With Soap And Water After Handling. Persons Applying This Product Must Wear Household Latex Gloves.