The Bark Magazine Recipes Section. From The Organic Dog Biscuit Cookbook by Jessica Disbrow Talley and Eric Talley © 2008 by Cider Mill Press Book Publishers, LLC/cidermillpress.com.
Recipes: Treat Them Right
Lots of fun in the summer sun makes for hot and hungry dogs. Here are two treat recipes that are sure to be pup-pleasers. Look for organic and/or free-range ingredients and you'll double the benefit. Look for the book they've been adapted from as well—The Organic Dog Biscuit Cookbook is a pleasure to read, and includes a wonderful variety of both recipes and information.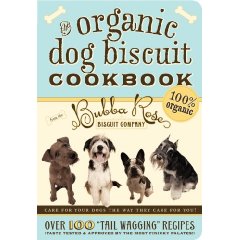 Frozen Sunrise
An icy treat to be enjoyed from sunrise to sunset.
2 c. fruit juice (apple works best)
1 mashed and puréed banana
1 c. plain non-fat yogurt
1 c. puréed strawberries
Combine all ingredients and whisk thoroughly. Pour mixture into small disposable cups (three-inch bathroom or kitchen paper cups work best). Freeze until solid (at least four hours). To pop out the treat, push up on the bottom of the cup.
Total calories: 540; divide by the number of servings for individual calorie count.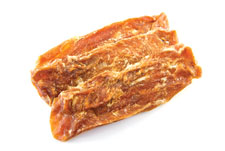 Jerky Turkey
A gentle-on-the-tummy treat—grain-free and low in fat.
1 lb. raw ground turkey (or chicken)
1 Tb. extra-virgin olive oil
1 tsp. finely chopped fresh herbs such as thyme or parsley (optional)
Preheat oven to 200°. Combine all ingredients in a food processor and purée the mixture. Line a jelly roll pan with aluminum foil or parchment paper (it makes clean-up easier) and pour the mixture into it. Spread evenly.
Bake two hours with the oven door slightly ajar to allow the moisture to escape. Remove from oven and, using a pizza cutter or knife, cut into small, individual-sized portions. Place pieces back in the oven, flipped over, and bake an additional one to two hours, or until the treats are dry and leathery. Store in an airtight container in the refrigerator.
Total calories: 794; divide by the number of treats for individual calorie count.