These 2 dogs are going to be PTS soon. If you have a place in your home, please go and adopt them ASAP.
LEDA
- is almost 1 year old and has been with us since 12th Feb.09. She was dumped at the Rifle Range Flat when she was 2 months old. She is fully vaccinated and waiting to go to a good home. Leda is a very timid dog. Her time is runnin...g out. She needs a family with lots of patience.
For more information on how to adopt, please contact the SPCA at 2816559/016-4166559 or visit the shelter.
SKIPPY
- Born around Nov. 08 has been at the SPCA Shelter since 20th May. She is fully vaccinated and spayed. Born around Nov. 08. She was kept by her former owner for 2 weeks and then surrendered to the SPCA. Skippy is active, alert an...d a good watchdog.
She is able to stand on her 2 hind legs for a long time. Skippy needs a loving home with a compound. She also needs an active family who would be able to spend time with her. Would you like to give her a second chance?
LEDA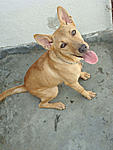 SKIPPY