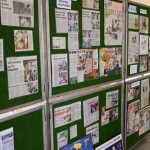 Everyone,
I got called from SPCA Seberang Perai Officer need someone able do Speaker for Education to young animal lovers aged between 10 to 13 years old. We need someone have experience Cat, Dog, Rabbit and other. To who interest Please contact me. I will give you the contact.
You can speak in Malay, English, and Chinese.
Location: Butterworth MPSP Building Jalan Betik, 14000 Bukit Matajam
Map:
http://maps.google.com/maps?f=q&sour...h&z=16&iwloc=A
Date: Sunday 23/8/09, time 9am to 2pm
http://www.spca-sbgperai.org.my/
The SPCA Seberang Perai would like to invite all of you young animal lovers aged between 10 to 13 years old to join our ďChildrenís Education Camp 2009″
Itís a day camp offering activities and plenty of interaction with animals. At this camp, you will learn how to care, love and tend to your petís needs. This camp is informative and we promise you lots of fun.
__________________
Please review Petfinder Forum Rules , or if you are new, or have not yet read them, please get familiar with them. Thanks.
Petfinder Forum rules
Sometimes,things in life are out of our control. We just need to accept the fact.
Rocky, Ricky and Rusty is my best friend.