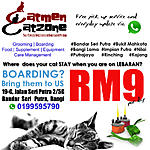 To anyone nearby #Bangi #Putrajaya #Nilai #BandarSeriPutra #BukitMahkota #Kajang #Balakong #Serdang that wants to use my BOARDING service :)
*Yang balik kampung menghala selatan pun boleh!*
Details as follow:
RM9 per day.
Booking should be made at least 5 days before boarding
Big and small cages are available.
We encourage pet owners to bring along their own food to avoid unpleasant respond from your cats as a result of changing food brand. For that, we only provide litter sand and water.
CATS must be VACCINATED! Please bring your cats updated vaccination heath program card/record.
FREE from flea, ear mite, fungus, etc.
FREE Pick up & Delivery service.
You will get your cat's updates everyday via whatsapp or sms.
More than 5 days boarding, you will get special discount ;)
Grooming: KITTEN RM15, ADULT RM25
Contact us
Whatsapp - 0199595790
Salam Ramadhan Al-Mubarak
Salam Aidilfitri