http://www.agility-penang.com/Obedience.htm
Dogs adopted from SPCA Penang or Petfinder will get 50% discount off the training fees for Basic Obedience.
SPCA is pleased to work with Persatuan Agiliti Anjing PP to provide training for dogs adopted from SPCA. Persatuan Agiliti Anjing PP is giving 50% discount on training fee for dogs adopted from SPCA. Check out Persatuan Agiliti Anjing PP here. It is Great!
New intake ( and the last intake for year 2008). Please register on 4th or 5th October. Obedience classes 12 classes. 1 class per week. If you miss any class, it will be replaced.
A CSAT test will be given to you and your dog upon completion of the 12 lessons. A certificate will be issued.
If the team fails, free classes until the team passes the CSAT.
If need more information from below, please come directly to the training grounds to discuss with the training instructors.
If anyone wants to know what agility is all about, I have updated this page with photos of PAA equipment.
http://www.agility-penang.com/agilitysport.htm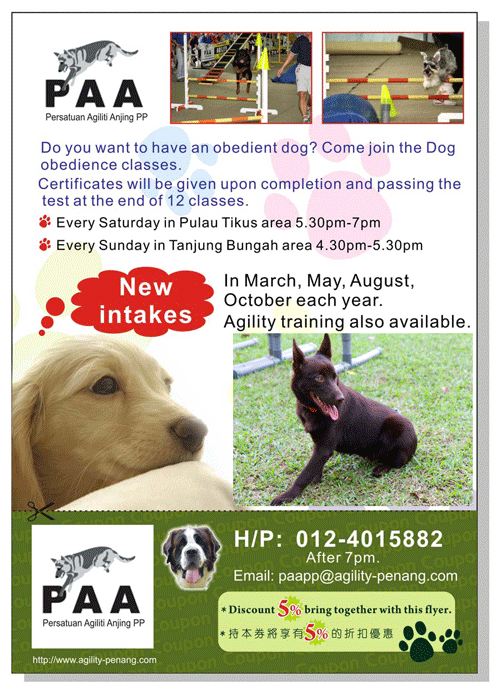 Here basic problem was facing by dog owner
Have you said to your dog SIT SIT SIT and sit...........
sound so familliar, dog can hear command at home, but why outside unable to do? The Obedience Training can help your more then that.
SIT
DOWN
STAY
__________________
Please review Petfinder Forum Rules , or if you are new, or have not yet read them, please get familiar with them. Thanks.
Petfinder Forum rules
Sometimes,things in life are out of our control. We just need to accept the fact.
Rocky, Ricky and Rusty is my best friend.