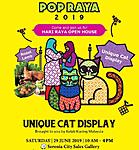 Good news!! For all the cat lover. We will show case various type of cat for you to explore. Don't miss out this opportunity.
We will also have door gift for registrants! #doorgift
Visit us at Sime Darby Serenia City Sales Gallery on 29th June from 10am - 4pm. See you there !
#popraya2019 #sereniacity #simedarbyproperty #harirayaopenhouse
#catslover #catsexpo @ Sime Darby Property