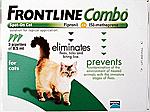 Frontline Combo Spot On Cat
Price: RM50.00
Postage via Poslaju can be arranged.
RM5.70 for weight less than 500gram
Please call/SMS (019-337 0862 or 019-317 0862 - Khasrina) or email:
dkashbuluh@gmail.com
for online order and other enquiries. You also are most welcome to visit our website at:
http://www.dkashcattery.com/category/product/
or our Facebook: D' Kash Buluh Cattery for other available product and details.
Presentation
Pipette of 0.5 ml Spot on solution containing fipronil 50 mg, (S)-methoprene 60 mg.
Uses
To be used against infestations with fleas, ticks and/or biting lice.
- Elimination of fleas (Ctenocephalides spp.) and insecticidal efficacy against new infestations with adult fleas persists for 4 weeks.
- Prevention of the multiplication of fleas by inhibiting the development of eggs (ovicidal activity), larvae and pupae (larvicidal activity) originating from eggs laid by adult fleas for 6 weeks after application.
- Elimination of ticks (Ixodes ricinus, Dermacentor variabilis, Rhipicephalus sanguineus). The product has a persistent acaricidal efficacy for up to 2 weeks against ticks (based on experimental data).
- Elimination of biting lice (Felicola subrostratus).
Can be used as part of a treatment strategy for the control of Flea Allergy Dermatitis (FAD).